MOROCCO - GEM OF WESTERN SAHARA COUNTRY
Morocco is a country located in northwestern Africa- it also claims the territory of Western Sahara.  Morocco's historical name in English is "The Farthest West".  It is home to famous cities and destinations including Casablanca, Tangiers, and the Sahara Desert. Morocco is also known for its unspoiled beaches, majestic mountains, and picturesque ports of call.
Travelers to Morocco are treated to a rich culture and diverse geography which spans from sea level on the Atlantic Coast to more than 2,300 m) (13,000 ft.) in the High Atlas Mountains.  Morocco is home to Africa's 22nd highest mountain, Jbel Toubkal, 10 World Heritage Sites (with an additional 13 sites under consideration) and 11 National Parks with many rare species and forms of wildlife.
Morocco is considered to be one of the most politically stable countries in Africa and currently attracts more than 12.8 million annual visitors.  In 2018, and for the first time, Morocco had the most visitors and tourists of any country in Africa.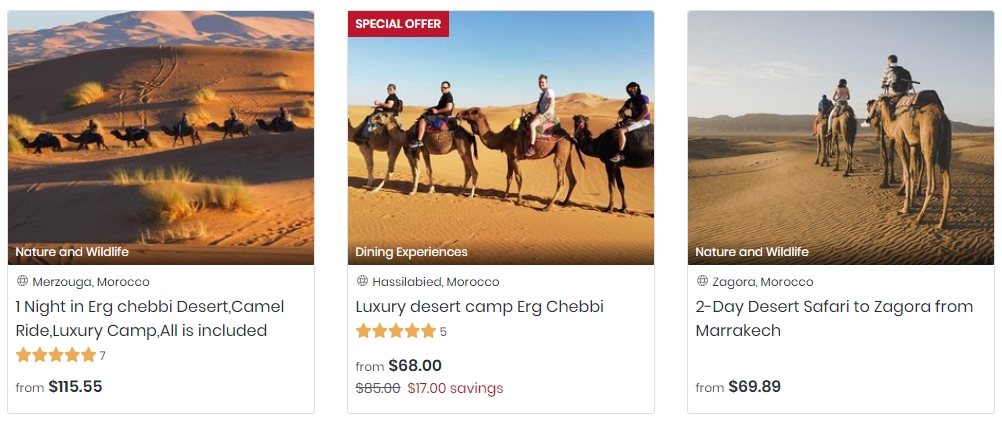 Country Profile
Morocco is the 18th largest country in Africa (excluding Western Sahara and the Spanish Territories).  It shares its eastern border with Algeria, the Pacific Ocean on the west, and the Mediterranean Sea to the North.  The country is the closest in proximity of any African country to Europe situated less than 13 km (8 miles) from Gibraltar which can be seen from both coastlines.  Scattered along the Morocco's Mediterranean coast are three Spanish territories.
Morocco has 2,945 km (1,830 mi) of coastline (including Western Sahara) and 42 major rivers and streams.  From north to south (vertical measurement), the country measures about 1815 km (465 mi) northeast to southwest and 525 km(327 mi) southeast to northwest.  Morocco is considered a strategic location due to its proximity to the Strait of Gibraltar which is only 29 km (19 mi) away.
The Morocco Constitution provides for a constitutional monarchy with branches divided into Executive, Legislative and Judicial functions.  Morocco has a King.  The head of the Morocco Government is the Prime Minister. The country is divided into 12 limited, self-governing council areas and comprised of 75second-tier administrative divisions and providences.  The largest region is Casablanca-Settat which is followed closely by Rabat-Salé-Kénitra, Marrakech-Safi, and Fès-Meknès. Morocco is a member of the United Nations, African Union, Arab League, Arab Maghreb Union, and Organization of Islamic Cooperation.
Morocco: Breaking News & Top Stories
Below is our country profile containing facts and information to familiarize you with Morocco.
Country Name: Morocco
Official Name: Kingdom of Morocco  or المملكة المغربية (Arabic) al-Mamlakah al-Maghribiyyah: Kingdom of the West (English)
Formation: Ruled by Idrisid and Alaouite dynasites(788-1631), Independence 1956
Historical Nickname: "لمغرب الأقصى" or al-Maghrib al-Aqṣá (The Farthest West")
Flag: Deep red with centered five-pointed green pentagram, adopted 1915
Country Motto: "الله، الوطن، الملك" (Arabic); "God, Homeland, King" (English)
Government: Unitary Parliamentary Constitutional Monarchy
Capital: Rabat
Largest City: Casablanca
Select Cities: Tangiers, Fez, Rabat, Meknes, Ifrane, Marrakech, Agadir
Points of interest: High Atlas Mountains, Sahara Desert, Mosques and National Parks
Nationality: Moroccan
Official Religion: Sunni Islam
Population: 35,582,945 (2018)
Life Expectancy: 74.43 years for males and 77.02 years for females (World Bank)
Largest Ethnic Group: Arab-Berber
Official Languages: Berber, Darija, Hassaniya: Foreign languages are French, English and Spanish
National Anthem: "النشيدالوطنيالمغربي" (Arabic); "CherifianAnthem" (English)
Area: 711,850Km² (274,470 mi²)
National Symbols: The Moroccan Flag
National Colors: Red and Green
Average Temperature: Extreme weather and temperature variations by regions
Climate and Seasons: Diverse, depending on region with Mediterranean climate along the north coast. Rainy season varies. Average precipitation decreases further south in more arid regions.
Highest Elevation: Topukkai, elevation of 4,165m (13,665ft)
Lowest Point: SebkhaTah, elevation of −55 m (180 ft)below sea level
Longest River: The Draa 1100 km (685 mi)
Deepest and Highest Lake: Lake Aguelmame Sidi Ali 36m(118 ft) deep, Altitude of 2080 m
Largest Lake: Lake Aguelmame Sidi Ali
Location: Northwest Africa
Calling code: +212
Geographic Coordinates: 2 00 S, 77 30 W
Currency: Dirham
Driving side:  Right
Time zone: One time zones (UTC+1)
Internet TLD: .ma
Busiest Airport: Mohammed V International Airport (IATA: CMN)
Bordering Countries: Algeria, Western Sahara. Spain across the Strait of Gibraltar
Morocco Travel
Coronavirus and Travel: Morocco Breaking News
What currency is used in Morocco?
The official monetary currency of Moroccan is the Dirham commonly represented by the symbol (DH) and consists of coins and banknotes.
Where should I visit when in Morocco?
Morocco is the most popular tourist destination in Africa.  However, the country's popularity does not detract from the superlative and hundreds of unspoiled attractions.  For those seeking outdoors adventure, there are more than 10 protected areas and national-parks and sites such as Souss Masa National Park, heritage sites such as Ait Ben Haddou, the Arganeraie Biosphere Reserve and The Mamora Forest near Rabat.
For travelers preferring to visit cities and towns, Morocco is famous for some of the most important architecture and historical sites in the world.  These places are dotted with mosques, such as the world's second largest, the Hassan II Mosque, museums of antiquity, Moroccan arts, archaeology and some of the world's oldest ethnographic museums such as the Tetouan Museum of Indigenous Arts.
When is the best time of year to travel to Morocco?
Because of Morocco's diverse geography and climatethe "best time of year" to visit will depend on where you will be travelling.  Peak travel seasons are between April and October.  In most major coastal cities in Morocco, January to May is the wettest, coolest time of the year.  Average daytime temperature is about 70 °F (24°C) with nighttime temperatures more than twenty degrees cooler.  The climate varies by region from coastal cities such as Essaouira due to the height of the Atlas Mountains with elevations approaching 14,000' above sea level.
What are some of the "must see" destinations in Morocco?
Certainly some of the most popular and "must see" destinations would include The Marrakech Museum filled with traditional Moroccan art, the Natural Science Museum in Rabat, and the American Legation Museum with its beautiful courtyard and picturesque views of the Straits of Gibraltar.  Another "must see" destinations includes a visit to the Raissouni Palace in Asilah and the Medina of Rabat.
For those seeking outdoor adventure there are diverse activities appealing to all tastes and interests such as camel treks, a visit to one of many golf courses such as The Royal Dar Es Salaam Golf Course in Rabat or the Royal Marrakech Golf Club in Marrakech. Guides and travel companies offer exception daily tours for trekking, hot air ballooning, charter boats where world class fishing waters abound. There is also an abundance of kite surfing and windsurfing spots from such ports of call on Atlantic Ocean like Essaouira.
How expensive is Morocco?
Youth hostels and hotels are plentiful with season nightly prices ranging between USD$10 and USD$15.  Mid-range hotels in the larger cities such as Casablanca range between USD$48 to USD$150 a night but bargains abound.  When planning your trip account for meals, ground transportation, entrance fees, and entertainment.  Flights, day tours, and rental car costs will vary based on your travel itinerary and length of stay.  There are a variety of river tours as well as dozens of companies offering cruises to ports throughout Morocco such as the Port of Safi or the Port of Essaouira.
Do I need a visa to visit Morocco?
Depending on your citizenship and country of origin, visas and passports and other travel documentation is required unless the foreign national is a citizen of a country that is eligible for a visa exemption.  Citizens from almost 70 territories and countries, including the United States, Canada, and all European Union citizens can lawfully enter Morocco for up to 90 days without a visa.