Enjoy a Break at Imouzzer du Kandar
The town of Imouzzer du Kandar in Morocco was established in the early 1900s by the French authorities. It was modeled along the same lines as the ski resort town of Ifrane and therefore has the look reminiscent of an Alpine village rather than a typical Moroccan town. Many of the houses in and around Imouzzer du Kandar are built from natural stone and mortar, with sharply slanted roofs which enhances the Alpine look of the town.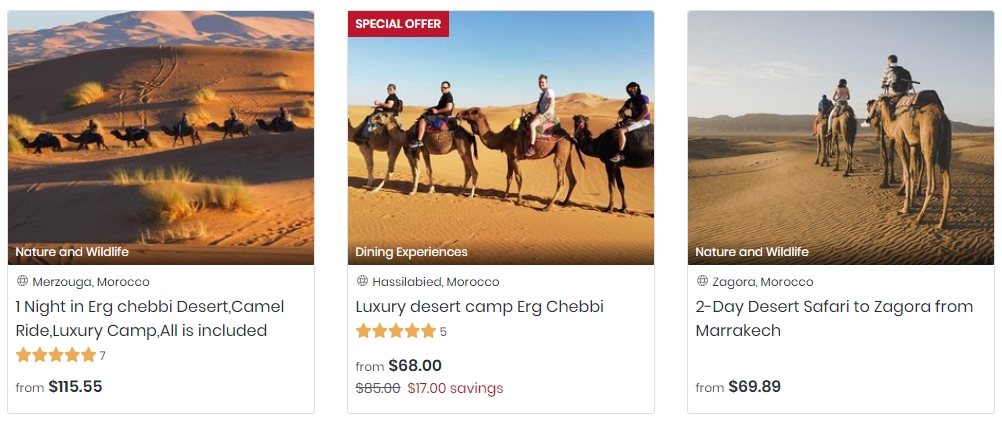 Situated at 1350 meters above sea level Imouzzer du Kandar is considerably cooler than most Moroccan towns, which is one of the reasons it is used by many as a holiday getaway during the extremely hot summer months of the year. One of the best times to visit Imouzzer du Kandar is in August when the Apple Festival is celebrated in the town.
The nearby village of Ain Chifa offers a refreshing pool which is filled by clean and very cold water tumbling down the forested mountainside. There is not much in the way of accommodation, so the village is usually visited as a day's outing from Imouzzer du Kandar. There are a number of small shops which sell popular souvenirs to the visiting tourists.
The souk (market place) of Imouzzer du Kandar is fairly modest but charming, with simple stalls and a rural atmosphere. It is best to visit the souk on Mondays as this is the day that farmers, craftsmen and vendors come into town from the surrounding rural areas to display their wares for sale. On the other days of the week, the souk provides basic daily necessities.
Energetic visitors have the option to climb up to the Djebel Abad, the 1768 meter high summit of the Kandar. Efforts will be rewarded with a breathtaking view of the peaceful Sais plain, the flat roofs of Fez punctuated by ornamental minarets and the Rif Mountains in the distance.
It is easy to understand why the northwest African country of Morocco is a popular tourist destination. Its diversity offers many exciting options to adventurous travelers. The unusual town of Imouzzer du Kandar is yet another facet of this fascinating country.