Screams to a crazy 10,000RPM and has the power potential equivalent of a 1000 horses!!
forget ferraris, lambos, bmw's this car will beat them all...
vid..
http://www.striben.org/kismo/Kismo_quarter_test.mpg
http://www.striben.org/kismo/Kismo.DK-Sturup.mpg
http://www.striben.org/kismo/300_plus.mpg
http://www.striben.org/kismo/0-300_vandel.mpg
http://www.striben.org/kismo/Kismo.D...up-onboard.mpg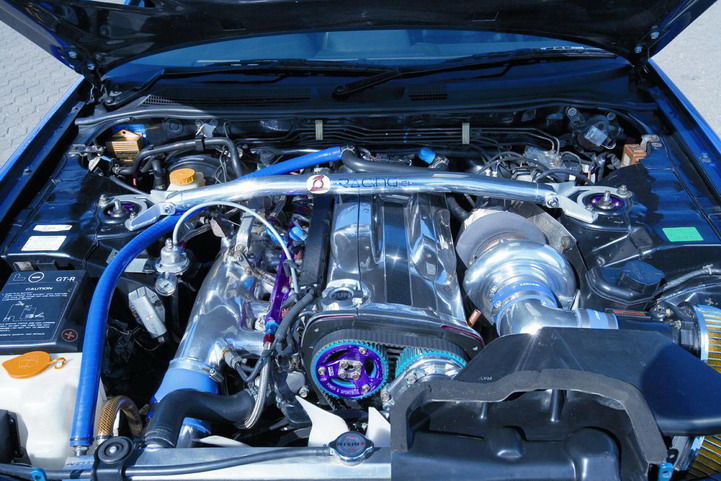 Nismo GT block
JUN 2,7 steel crankshaft.
JUN connecting rods.
JUN/Cosworth pistons Hyper alloy berylium.
JUN oil pump.
JUN main bearing studs.
Trust sump extension.
Nismo bearings.
Nismo N1 waterpump
Fully race balanced crank assembly done by Toptrim.DK
Cylinder head:
JUN camshafts in/ex
Kismo race ported cylinder head with matched manifolds in/ex.
JUN valvesprings and titanium retainers.
Altered compression ratio.
Altered combustion champer.
Trust 6-1 SPL drag SPL exhaust manifold.
Trust T88-34D Turbo racing prepped with lighter shaft and porting.
Trust DRAG SPL intercooler
Greddy Type C 60mm wastegate.
4" boost piping.
HKS drag gasket kit incl head gasket.
JUN reinforced head studs.
JUN cam gears.
Nismo cam belt
RC engineering 1000 cc injectors
Kismo fuel system incl 3 bosch 044 pumps with 2 liter swirl system.´
FSE fuel pressure regulator
All fuel lines goodridge -6
Nismo GT radiator
Kismo/HKS Super drager muffler with 100 mm exhaust piping.
Nismo engine oil cooler
Castrol 10/60 TWS oil.