| | |
| --- | --- |
| Nak | |
Nak
20th October 2005, 09:07
Registered User

Join Date: Oct 2002

Location: MI5 Headquarters

Posts: 6,070
You wish!
If you think you have anything to do with me changing my sig then you're deluded!
I guess its true what they say 'people who are ugly inside & outside can only see ugly things'
When you having that face transplant?
Quote:
Originally Posted by NAK__-KKK
that was an easy way to make her change her previouse ugly signature , only that she have chosen an even uglier one
__________________

In the End, we will remember not the words of our enemies, but the silence of our friends."
- Martin Luther King Jr.(1929-1968)
23rd October 2005, 03:15
Moderator

Join Date: Apr 2004

Posts: 1,799
Quote:
Originally Posted by NAK__-KKK
All my money goes back to Morocco in form of gold through the new port of Nador(still pretty safe)
Not now you've advertised it on the net, it isn't
V
__________________
"Wars such as those which have occurred in Iraq only allow hatred, violence and terror to proliferate."
- Jose Luis Rodriguez Zapatero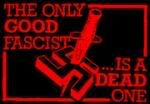 http://www.shirazsocialist.blogspot.com/
| | |
| --- | --- |
| Posting Rules | |
All times are GMT +1. The time now is
11:26
.