| | |
| --- | --- |
| Lack of serious thought | |
Lack of serious thought
18th December 2004, 16:34
Registered User

Join Date: Nov 2004

Posts: 563
Salam

You see the problem is that as muslims(fully submitted to One God), we are told to speak the truth. Whether a person is listening or not all we can do is pass on the message because when we meet God we will have to explain to him why we kept silent?. but sadly when we do, we are automatically branded backwards and fondamentals etc.. or someone who is trying to change people's way of life.
Allah(SWT) said:
"Oh mankind! Verily, the promise of Allah is true. So let not this present life deceive you, and let not the chief deceiver (Satan) deceive you about Allah." Quraan 35:5
and that's why we try to pass on the message of God and to stay away from satanic way of life.
If the person refuse to listen than we say:
"Know that the life of this world is only play and amusement, pomp and mutual boasting among you, and rivalry in respect of wealth and children, as the likeness of vegetation after rain, thereof the growth is pleasing to the tiller; afterwards it dries up and you see it turning yellow, then it becomes straw. But in the Hereafter (there is both) a severe Torment (for the disbelievers, evil doers), and Forgiveness from Allah and (His) Good Pleasure (for the believers, good doers), whereas the life of this world is only a deceiving enjoyment." Quraan 57:20

Peace










19th December 2004, 13:31
Moderator

Join Date: Apr 2004

Posts: 1,799
[quote]
Originally posted by LDNgirl
Quote:

Hello VP, Long time, I hope ur well!

You have taken me out of context! This has nothing to do with this forum in particular, but particular people thats all. It's an observation. Some people just find it a tad hard to hear the truth when it is said to them, so instead of looking to themselves, and comtemplating that maybe... just maybe... this person has a point... it's easier to label someone else as something that people hate.... ie terrorist/ fundamentalist etc etc... it's displacement. That's why I KNOW that many people have chosen keep silent, not put their full views out there, or even challenge something, coz they know that people would just come down on them like a ton of bircks. Hence the very wishy washy nature of the Islamic forum that Jer was talking about. The discussions are not challenging(apart from some threads eg. simples two threads!), coz no one wants to offend, the stories are long and have been used over and over... instead of being inspiring, they are just tiresome.

As to your last para... I agree, and I do! Have a good day!
Oh. OK
Yeah I'm good. Glad to see you're still around too
V
__________________
"Wars such as those which have occurred in Iraq only allow hatred, violence and terror to proliferate."
- Jose Luis Rodriguez Zapatero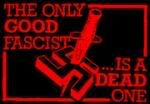 http://www.shirazsocialist.blogspot.com/
21st December 2004, 12:51
Registered User

Join Date: Jan 2004

Location: UK

Posts: 1,101
Quote:
Originally posted by jer
I don't want to offend anyone but I've noticed a lack of serious thought on this forum and I must say reading posts here is not very intellectualy stimulating, you just post simplistic stories about Islam, and "brother", and "sis", and salam here and salam there, but you never go in any depth, you never ask any difficult or stimulating questions, you never provide analysis, just Islamic creed and dogma. Is this endemic of an overall stagnation of the Arab/Muslim world or is it just an anomaly?
That is the strange aspect about following a religion, most followers just accepting anything which has been ordained or written in books etc - maybe because of fear of God and intimidation from other people of the same faith (religion is a sensitive issue per se)... I actually don't blame you feeling the way you have described, because I often feel exactly the same, when it comes to discussions about certain aspects of the religion or way of life and being.
I'm a practicing Muslim, but I have to admit to finding quite a few things I have read in the Qur'an and Hadiths as being questionable and aspects I would object to... I am also not afraid to discuss such, but I have never really felt this forum is the right for such discourse.. thus I prefer to talk about such things with friends or question/debate in other forums etc.
__________________
Nicaragua
| | |
| --- | --- |
| Posting Rules | |
All times are GMT +1. The time now is
05:13
.